4 Questions to Ask About Telemedicine
Telemedicine is an effective and convenient way to meet with your doctor or health care provider, especially during COVID-19. Visit Plymouth Urgent Care & Bloomfield Urgent Medical Care offers telemedicine, call us for more information or schedule an appointment online! We have 2 convenient locations to serve in Plymouth MI
,

Bloomfield Hills MI, and surrounding areas!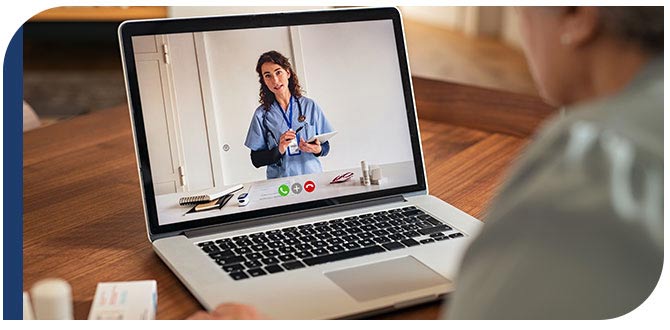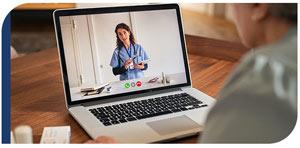 Table of Contents:
What is telemedicine in healthcare?
What does a patient need for telemedicine?
What happens during a telemedicine visit?
How does a telemedicine visit work?
What is telemedicine in healthcare?


Telemedicine is more than just receiving medical care from a health care professional over the telephone. It is a broad term that is used for all of the different ways you can interact with your doctor without having to go to their office. Telemedicine allows you to book an appointment with your doctor or medical health provider that you can attend from the comfort of your own home, provided this service is available. Telemedicine was used prior to the COVID-19 pandemic but has become more widely available, with more practitioners offering this service to their patients to avoid face-to-face interactions to help slow down the spread of COVID-19 while still providing their patients with the proper care and treatment they require. Your health care provider can let you know at the time of booking a telemedicine appointment what your options are for remote consultation for that particular clinic, but typical offerings include over the phone, emails or video chat. The decision to use one method over another can be based on your symptoms or the reason for your visit. For example, if you are wanting to see your doctor about a rash, they may choose a video chat so you can show them through the camera what the rash looks like as opposed to you trying to describe it over the phone. Not all services are available through telemedicine, as some treatments or exams can't be done without a face-to-face interaction no matter how good our technology is.

What does a patient need for telemedicine?


When you are booking an appointment for a telemedicine visit, ensure you check with the doctor's office to understand how the appointment will take place and what you need to do to prepare for your visit. You will also need to check with your health insurance to find out if your insurance coverage includes telemedicine visits. Once you confirm that you are covered, follow the instructions from the doctor's office to get set up and ready for your appointment. It could be as simple as the doctor calling you directly at your appointment time, or it could be more complex such as needing to set up a patient profile on a secure website managed by your doctor's office. In that case, you will need to make sure that you have a secure internet connection and a computer, laptop or smartphone that you can use for your appointment. Make sure you know your login and password information ahead of time and have it handy to login for your call as directed. If you are using a smartphone or laptop, ensure that the device is adequately charged or plugged in so you don't run the risk of the battery dying during your appointment. Ensure that your camera, microphone and speakers are in good working condition so you and your doctor can see and hear each other. Find a quiet area for your appointment where you won't be interrupted, letting others in the house know that you are taking a call so they will give you privacy. You can have another person in the room with you if it makes you more comfortable or as a backup to help you recall the conversation later, just make sure to let your doctor know that person is there and that you are good with them hearing your confidential medical conversation.

What happens during a telemedicine visit?


A telemedicine visit works very similarly to the way an in-person visit will work, but with the convenience of not needing to leave your house or work. Once you are logged in and have a secure connection with your doctor or other health care provider, they will ask you about the reason for your visit and what your symptoms are. By asking you a series of questions about your symptoms and getting you to walk them through your concerns, the doctor will be able to make a diagnosis, recommend a treatment plan and even provide a prescription if needed. Depending on your doctor's office, the prescription can be sent directly to the pharmacy for you, or it may be provided in your patient portal for you to print off and take to the pharmacy. Telemedicine can be used for many services that you would typically have done in a face-to-face setting. As it becomes a more widely used offering, more practitioners are providing this option to their patients. It can be used for visits with your primary care doctor, but also for some specialist services such as psychiatrists, allergists, dermatologists, oncologists and even obstetricians. Some urgent care centers are also offering a telemedicine option, where you login to a secure portal and are put in line to be seen by the next available doctor, same as if you went to an urgent care center in person.

How does a telemedicine visit work?


Telemedicine works by virtually connecting you to a health care professional for diagnosis and treatment of health concerns. A wide variety of health care professionals are available through the telemedicine program, so you can consult with a doctor, dermatologist, psychiatrist and many others for your health concerns. Typically, the clinic will have a secure patient portal that patients will log into for their appointment to keep the conversation confidential. Some urgent care centers also offer telemedicine services, so patients can login from home and put into a queue for the first available doctor to address their concerns and receive treatment recommendations. While many services can be covered through telemedicine, there are still some health concerns that require in person visits such as fractures, cuts that require stitching and any diagnosis that will require further testing such as x-rays, bloodwork and other tests that can't be performed at home. During a telemedicine visit, your doctor will let you know if you need to be seen in person for additional testing or a more thorough check up.

If you want to know more about our services, call us or schedule an appointment online! We serve patients from Plymouth MI, Bloomfield Hills MI, Livonia MI, Novi MI, Worden MI, Canton MI, Southfield MI,
Troy MI, and Farmington Hills.