Sports Injury Treatment Specialist Q&A
If you would like more information about sports injury treatment services or an appointment with one of our sports injury specialists at Urgent Medical Care in Plymouth MI and Bloomfield MI. For more information, call us now or schedule an appointment online.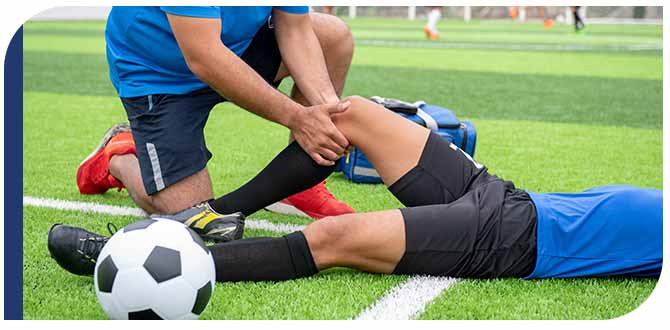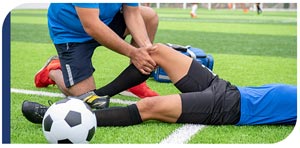 Table of Contents:
What are common sports injuries?
Who should I see for a sports injury?
What kind of doctor treats sports injuries?
What are the benefits of seeing a sports injury specialist?
Sports are a great way to have fun, pass the time, enjoy our friends' company, and develop team-building skills. Whether we are watching or participating, millions of people enjoy sports. While observing from the sidelines comes with few risks, playing a sport has an inherent possibility of injury. In most cases, injuries are not too serious and heal on their own with conventional treatment methods. However, sometimes an injury can be severe and cause a limited range of motion or mobility for several months, with the possibility of reinjury in the future.
What are common sports injuries?


Common sports injuries include:

• Hip Flexor Strain
• ACL Injury
• Patellofemoral Syndrome
• Concussion
• Strained Groin
• Sciatic Nerve Pain
• Shoulder and Elbow Injuries

Who should I see for a sports injury?


After sustaining a sports injury, it is important to receive the right care. This, of course, first requires seeing the right professional. With the dozens of types of doctors available, it can be confusing to know which one is best to see for a certain condition. For sports injuries, a pain management doctor is always a good choice. These doctors do not cover up the pain with temporary, topical treatments, but diagnose and treat the root cause for effective and long-term relief.

What kind of doctor treats sports injuries?


There are several different types of doctors that treat sports injuries, from sports medicine doctors to pain management doctors. Pain management doctors are especially great for treating any type of physical trauma, as they address the underlying cause of concern for relief that can last a lifetime. In many cases, they specialize in treating sports injuries, combining the best of both professions for injuries sustained while participating in sports.

What are the benefits of seeing a sports injury specialist?


There are several benefits of seeing a sports injury specialist when treating an injury, including:

• Customized Care — With an in-depth understanding of what could be the impacts of an exercise on their patient's body, sports injury specialists are specially trained healthcare professionals who collaborate with other professionals, such as physical therapists and orthopedic surgeons, to develop a customized treatment for their patient.

• Injury Prevention — Sports injury specialists can provide athletes with expert advice on how to prevent injuries and how to reduce the likelihood of exacerbating a previous injury. To determine whether they are fit enough to resume sports activities, they also conduct pre-participation physical exams of their patients.

• Pain Management — Making it difficult for athletes to return to the game and carry out their activities, sports injuries may lead to several orthopedic issues that often cause chronic pain. To help their patients prevent or defer the need for surgery and continue their daily activities without any hindrance, sports injury specialists also use pain management therapies like electrical stimulation, spinal decompression, and injected medications.

• Rehabilitation — For athletes, returning to a sport after sustaining an injury can be a complicated and lengthy process. If sidelined by an injury, a sports injury specialist can help active individuals restore movement and function and return to the same or higher level of fitness as quickly as possible.

• Improving Athletic Performance — Sports injury specialists diagnose and treat painful conditions to help their patients deliver their maximum performance, both on and off the field.

• Improving Overall Fitness — Sports injury specialists help athletes prevent soft tissue injuries such as muscle sprains, strains, and tears, to keep their bodies in the as best shape possible. To help their patients maintain overall fitness, they also conduct full body and musculoskeletal examinations.

• Non-Surgical Treatment — Sports injury specialists try to avoid surgery as much as possible and instead focus on treating injuries with non-surgical methods like physical therapy, acupuncture, and PhotoMedicine Therapy.

At Urgent Medical Care, we care about your health. Our kind and compassionate professionals are experienced in treating sports injuries and can help you recover faster, so you can get back in the action sooner. Call us today to book an appointment for sports injury treatment. If you or someone you know is looking for urgent medical attention, visit Urgent Medical Care. We open 7 days a week. We serve patients from Plymouth MI, Bloomfield Hills MI, Livonia MI, Novi MI, Worden MI, Canton MI, Southfield MI, Troy MI, Farmington Hills MI, and surrounding areas!